Sunday, November 29, 2020
Swedish Painted Corner Cupboard. Dated 1819. Made using the finest knot free Red pine.
This elegant piece has been hand painted by Melissa White in keeping with the tradition of Swedish painted furniture.
The English design, called "Saffron Walden", was selected to enhance the character of this unique little corner cupboard. The pattern's delicate lines and shapes are spacious enough to allow the cupboard's patina and layers of old paint to breathe.
The "Saffron Walden" design derives from a floor-to-ceiling black and white Elizabethan wall painting found in a house in Saffron Walden in Essex. This wall painting, in turn, probably came from a craftsman's pattern book of wrought ironwork. The itinerant artists who painted the interiors of Tudor homes often re-purposed designs from various pattern books for use on walls including those of glaziers, embroiderers and metalworkers.
---
Thursday, September 2, 2021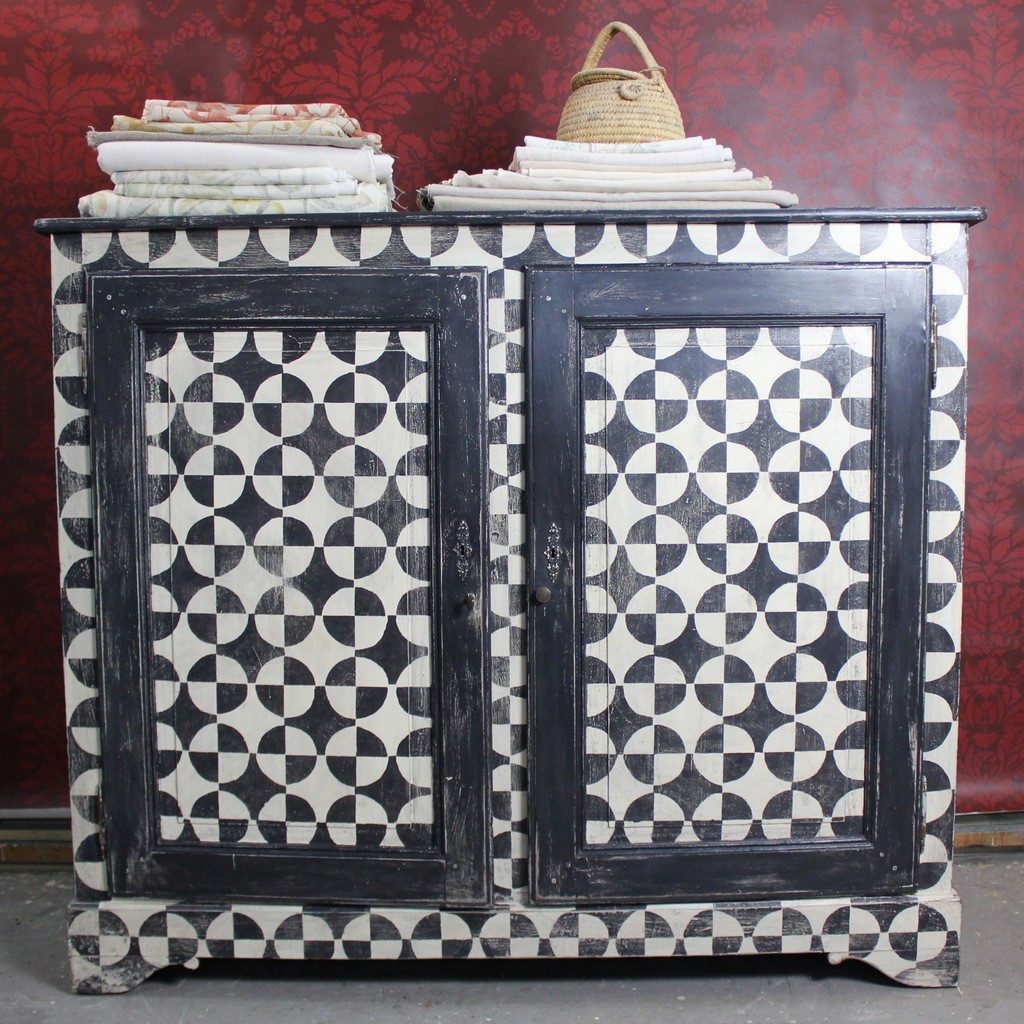 French Buffet c.1800 decorated by Melissa White in a Cogwheel pattern found in a Devon Cob house fire place.
Period French Buffet painted by Melissa White.
A LARGE and useful unique linen cupboard.
The black and white cogwheel design was found in the fireplace of a late medieval cob-built cottage in Devon. It was common to decorate fireplace linings with geometric designs imitating the sgraffito technique.
The soot from the fire could be used as pigment. For this cupboard we have used a series of stencils and chalk paint.
Distressing and waxing the paintwork allows the extant textures and history of the piece to tell their story.
---
Monday, May 11, 2020
Melissa is delighted to be collaborating with Fleet Gallery, Hastings on a new painted furniture adventure.
"I have, of late, become rather obsessed with a certain style of painted furniture. It has its origins in Italy and features strong geometric designs painted in an all-over fashion. The bold, structured patterns, often in black and white, have a rhythm and energy that I find very exciting when they cover characterful pieces of antique furniture.
When I found that Patrick Robbins of Fleet Gallery shared my enthusiasm it made perfect sense to bring our skills together. He has great experience in sourcing and recognising beautiful pieces that have provenance and character but he also recognises the potential of pieces in need of sprucing up. From cupboards to cabinets, drawers to commodes, we will let his finds speak to us and select suitable patterns that will enhance and elevate. Then he'll leave me to work some painterly magic at my studio.
I use natural, chalk paints to apply the designs free-hand or with the aid of simple stencils in the English tradition. I've avidly collected patterns for many years with a particular interest in Elizabethan wall painting but also a love of European folk art and vernacular decoration.
With the design painted I gently distress the surfaces. This stage is especially rewarding when working with antique furniture because all the history imbued in the surface; layers of paint and years of wear and tear, melds with the new paintwork in thrilling and serendipitous ways. A waxed finish further enhances the inherent patina and gives the piece longevity. I think this painted furniture can add vibrancy and personality to any space serving as a standout, statement or as a key piece to an inspired room scheme"
---